Moderator: Bill Edmundson
Posts: 47
Joined: Sun Mar 27, 2005 2:57 am
Location: Louisville,KY
What do you need a hotel for I have my camper. Sounds like no one wants to go drinking w/ "Uncle Billy and me".I'm gonna get a hold of Keith,surely Keith will want to go drinking and sailing w/ "Uncle Billy and me". HOT-DOG McCusker Can't remember the name of the raven
---
---
I'm ready Gary, I just brewed up a batch of beer yesterday, and I'll be brewing another 3 batches in the very near future. I'm gonna start kegging my beer instead of bottling. Bottling sucks! I've got a huge commercial 3 keg kegerator that I'm trying to fill. I can get at least12 of my homebrew kegs in there and I've got 5 faucets to hook 'em up to. I'm also working on a way to put a keg onboard and have a tap piped to the cockpit. Everyone will know where the party boat is.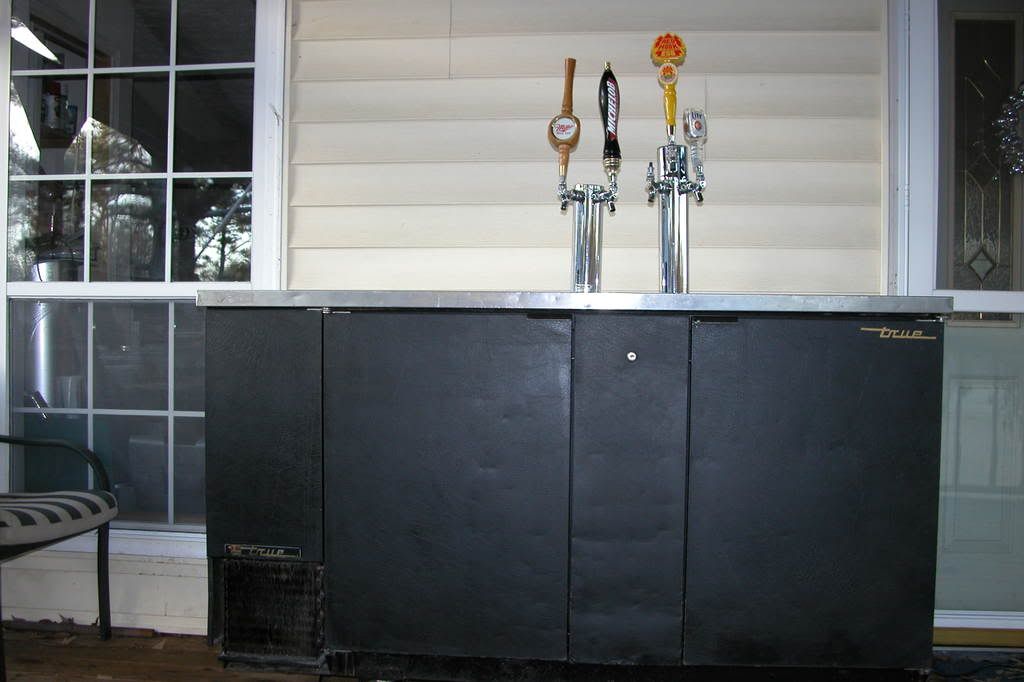 I can almost see alcoholism in my future
Keith
---
---
---
---
I'll use CO2 to pressurize it and carbonate it in the kegs. No more waiting 2 or 3 weeks for natural carbonation. You use nitrogen for Guiness, I'd have to buy a new tank, lines and to do it right an $80 faucet. There's plenty of other beers I can drink without all that added expense. With CO2 the beer will be good till its gone. Some homebrews, mostly stouts, need to wait 6 months before they are ready to drink. I'm drinking one now that was bottled in October and it's better than ever. They get better with age but it's hard to keep em around that long. The one I'm drinking now only lasted this long because I didn't like it much when it was new, now it's not bad at all.
I brewed a porter yesterday, and I've got a Full Sail Ale clone that I'll do next, then a Hoegarrden clone and another wheat beer that I'll do something with. Beer is good.

PS I had to take the still out of the bathroom...my brew had a strange skunky smell to it, I don't know how it got there


Keith
---
---
Posts: 828
Joined: Mon May 07, 2007 7:50 pm
Location: Battle Point, Leech Lake... tundrasota
leakcheck wrote:yeah i have the co2 tanks too..but i just use it to preserve my store bought Michelob Amber bock !

Steve
Preserve it? from what? Not like that training beer can get any worse than it already is! For that matter if it got skunky at least it would have SOME flavour.
---
Posts: 11763
Joined: Wed Nov 23, 2005 6:45 am
Location: Birmingham, AL, USA
Contact:
As a girl I once dated said... "I put a 6 pack in the refrigerator. It damn near got cold!

Bill
Mini -Tug, KH Tahoe 19 & Bartender 24 - There can be no miracle recoveries without first screwing up.
Tahoe 19 Build
---
I gotta get you brewing Steve. I may have my homebrew store guy up at our event in June to give a brewing class. I gotta tell you, there's nothing like getting drunk on beer you brewed yourself. Plus there's no hangover the next day. Let me get a couple batches kegged and come on over for some real beer.

Keith
---