Moderator: BruceDow
I never really looked at photos of the Noyo trawler before. Some of the adaptations in the photos section look really cool with the aft helm. If I was doing the Hercules I would definitely do the 10% stretch. That would likely add enough room for a v-berth up forward. I was even thinking it would be cool to move the galley aft to the seating area so you could have two seats on the "bridge."
---
This boat could be a lot of fun.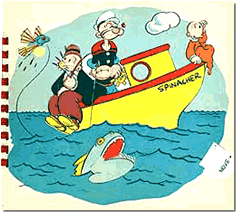 ---
Could I build something like this by the time I retire? (4-5 years)
My question is, would you have any time to even start this boat until you retire?
---
Doesn't hurt to plan ahead. I hope that I would be able to start building the frames in the garage a year from this coming winter. As this boat will be a multi year project I will have to get started sometime.
Capt. Dave
Builder of the Amp Eater Aquatron
---
Possible floor plan for the Play'n Jane.
Bench on the port side will pull up to be a dinette and the end will fold up to make a Nav station seat or all will lay flat for a 6 ft 2 ft wide bed.
A composting toilet in the head in a 28" x 40" space. (a little snug)
Galley area on starboard side behind helm station.
Room in front of the helm seat to stand if desired.
Approx 4 ft deep in cockpit area.
V-berth up front
Capt. Dave
Builder of the Amp Eater Aquatron
---
I like it Dave. I think that could work well.
Bryan
Building a malahini "
Mona Lisa
"
My wife said "If I build a boat, she's getting a divorce."
We're still happily married, but now she just wants "the dam boat out of the garage."
---
That layout looks similar to the original layout in the Vera Cruise. One thing to consider is that vertical spacing can have a positive or negative effect on how cramped a cabin feels. For example, in my build, the plans have the head as a full height compartment (cramped as you say). The space above the toilet is wasted in the cabin and only makes it looked more cramped in there. I eliminated this by enclosing the toilet in a box instead.
For privacy, you could either have a wrap around curtain or in my case, since we'll be spending the vast majority of our time in the aft part of the boat, I am having a curtain to close off the cabin when someone needs to visit the "Poop Deck".
Unless you work 24/7 , you should be able to find some time most days to work on the build. Even if it's only for 30 minutes a day during the week, it's progress. I'm not retired yet and have been working on my cabin cruiser every day. Everyone told me I would give up or quite or never get it done, but it's there in my garage and looks like a boat and with a few more years of work, will be ready for launch. At one time it was just a dream and a set of plans.
---
On "Chug",the back door also is the door to the head.Will have to add curtain to porthole as well as door.Might have fold up shelf above toilet.My headspace is a little smaller but tall enough for me (6'3")
Working on regular-sized Bo-Jest


"If it's not crooked,It's not mine
---