All,
Well, I decided to stop feeling sorry for myself, and fix this mother...
I started by making the decision to attempt a "repair in place" - if I screw that up, I can always go to a back-up of pulling the jet bracket off and starting over. For reference, here's what the underside of the bracket looks like:
There are four 3/8" holes where the jet pump mounts, with stainless steel nuts (and large fender washers) imbedded in the 1" thick bracket top. You can also see the steering thru-hull which will also need to be modified.
I began by running a 1/4" drill up through the nut to locate the nut from the top of the bracket: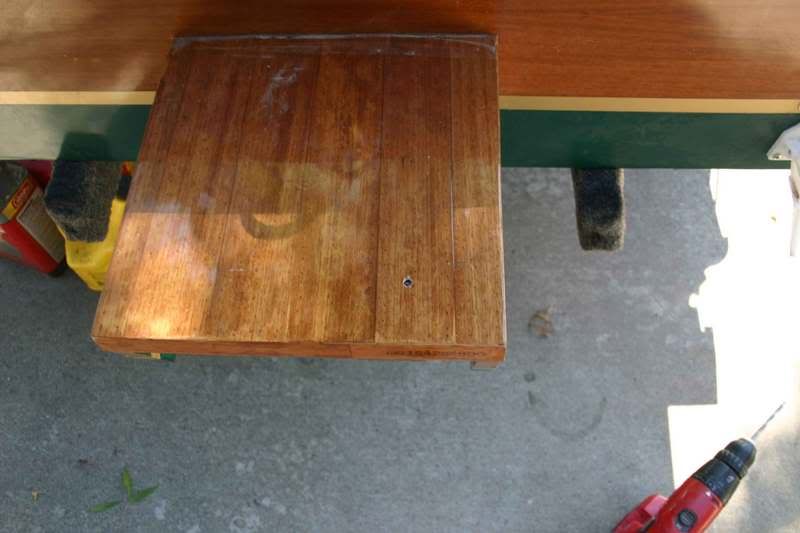 Then using a 2-1/8" hold saw (yeah, it's from my lock set!) and using the quarter inch pilot hole as a locator, I drilled down about 3/8":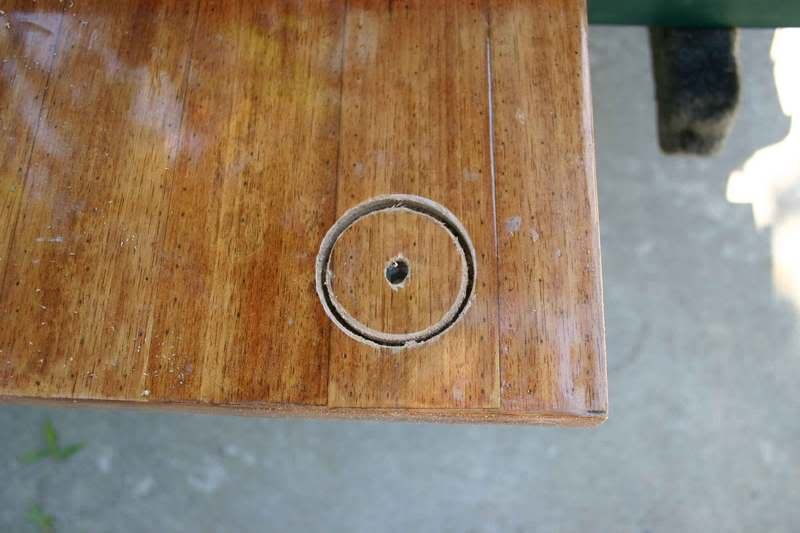 Then I had at it with a chisel until the top of the captured nut was visible: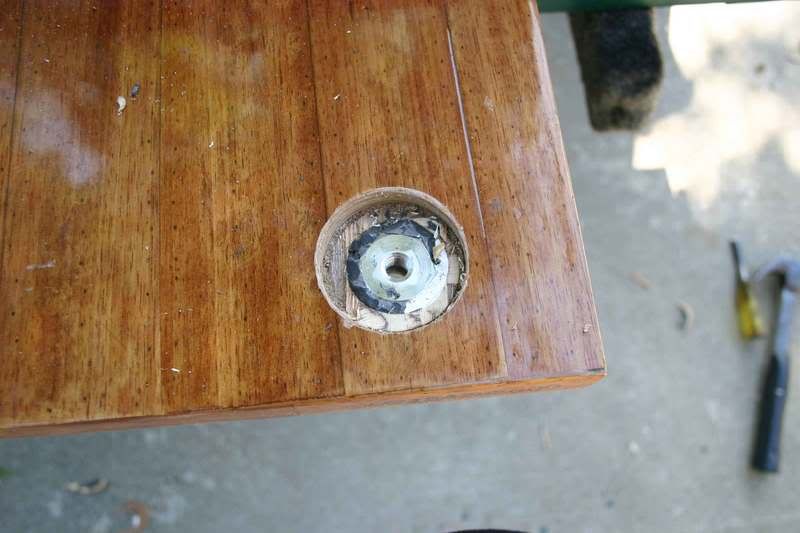 In this pic, you can see the black MarineTex epoxy that I used to pot the nut in place. For future reference, this stuff is HARD! Then I screwed one of the mounting studs into the nut from the bottom, and wailed on it with a 5 lb sledghammer until the nut popped out. Then I used the hole saw again to go down about another quarter inch, and used the chisel again until the MarineTex was removed, and I could get the fender washer out. Finally, I used a 2-1/8" forstner bit to clean up the hole to flatten the bottom, and make the hole 3/4" deep. The I cut a 2-1/8" pulg from 3/4 ply:
Finally, I gopped the whole thing up with thickened epoxy, and put the plug into the hole. After the epoxy had set, I drilled down through the plug center hole with a 3/8" drill, completely through to the bottom of the bracket top, and epoxied a 3/8" dowel in place:
So far, so good, only 3 more to go! Once they are done, I'll sand everything flat on both sides, then I'll be ready to drill new holes and pot the capture nuts in place just like I did originally. The final act will be to re-do the mahogony veneer on the bracket.
Peace,
TRM