Moderators: Bill Edmundson, ttownshaw
I'm finishing up my first build, that being an 18' flat bottomed sailing skiff (workboat) of my own design. During the course of the build I made many mistakes but learned a lot as well. One of the neatest tricks I learned was the use of a standard pill bottle to smooth out a filet. Slipped on a finger it works much better than anything else I've used but it took me some weeks later to devise a system to clean the bottle off during the filetting process. I sanded a notch in my mixing container (I always use yogurt tubs) with a cheap drum sander. You'll have to try it. As they say it's slicker than snot on a doorknob.
---
Posts: 73
Joined: Sun Jun 29, 2008 6:36 pm
Location: Zimmerman, MN
Great tip thanks for sharing I will use it on my Console Skiff build.

Great looking boat as well!!
---
now THAT is cool.

Thanks for sharing.
Bruce.
~~ Do what you love, and love what you do. ~~
~~ To me - only my boat is not yet perfect. Everybody else's is to be admired for I know the path they have walked (Dave Lott, 2010) ~~
Dow's Monaco Project
---
Clever! I could have used that trick when building my kayak. Thanks for posting.
---
I have used test tube candy containers like these. The bottom has a nice radius and they come in different diameters.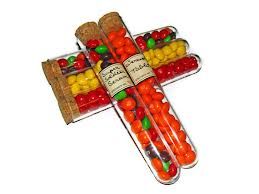 ---