I made a few remarks in the previous posts about relative accuracy or error in paper plans and I'd like to take a post to explore what I was talking about. The reason to use full size aluminum extrusion battens for full size lofting or model expansion (to be explored more in future posts here) is so important to understand that I'd like to expand on this topic.
IF this is already information your work experience has made clear, then no need to take time with this discussion. If you're not sure what I'm talking about in those previous remarks, this 'fact of life' post is intended to help you understand why I'm made a big deal out of the effects of aluminum battens in full sized work.
First, plans are drawn on paper and they are drawn to scale, if this principle is not clear to you... please look up one of the many online articles and read about this idea, I'm ASSUMING here, you're at least aware of the idea and practice of proportionality in the practice using a scale ruler? (not intending to make an 'ass' our of 'u' and 'ME' I'd need you to take the time to find these explanations)
Scale rulers are very commonly "three bladed" in cross section with two different scales on each blades' two sides. The rulers shown in the images to follow are for the purpose of illustration and not intended to represent all scales.
Let's relate a skiff of 20' LOA to a scale drawing. Scale and paper size are related to boat size. I a 20' LOA boat is drawn in 3"=1'0" then the boat will be physically 60" long on paper- where each 3" piece of paper boat equals 1'-0" of plans boat. So that scale would require a long sheet of paper. To fit this same boat, in scale, onto a smaller piece of paper the scale could be reduced to (let's say) 1/8" = 1'-0". Now the 20' boat would only take up (20 ft. )x(0.125"/ft) or 2.5" of paper!
That's pretty small, so let's increase the scale to 3/4" = 1'-0" where .75" x 20' = 15" of length on paper- in the scale chosen.
PAPER note: for those who don't know, paper sizes can be recalled like this: 8 1/2" x 11" is an A; double the short side and it becomes B or 11"x17"; double the short side and you have C or 22"x17"; double the short side and you have D 22"x34" and double the short side and you get E size or 34"x44".
Now, to use Architectural size pages start with 9"x12" and continue as with ANSI sizes, and then there are other size systems that can correlated to these basic sizes.
So our 3/4"=1'-0" boat that is 20'LOA could be shown as 15" measured in inches, in scale, on a B size piece of paper that is laid longwise side to side or "landscape".
NOW- to the meat of this post's points to consider in regards paper plans. How wide is a pencil line on paper? Well if we use 'full Scale" that is full inches to measure this line's width, the could probably vary from 1/64" for a finely sharpened hard lead up to maybe as wide as 1/16th inch for a softer lead and the width could vary along the curved line as the lead wore away while marking!!! (last point is kind of important)
What is the width of that same identical line in
scale
?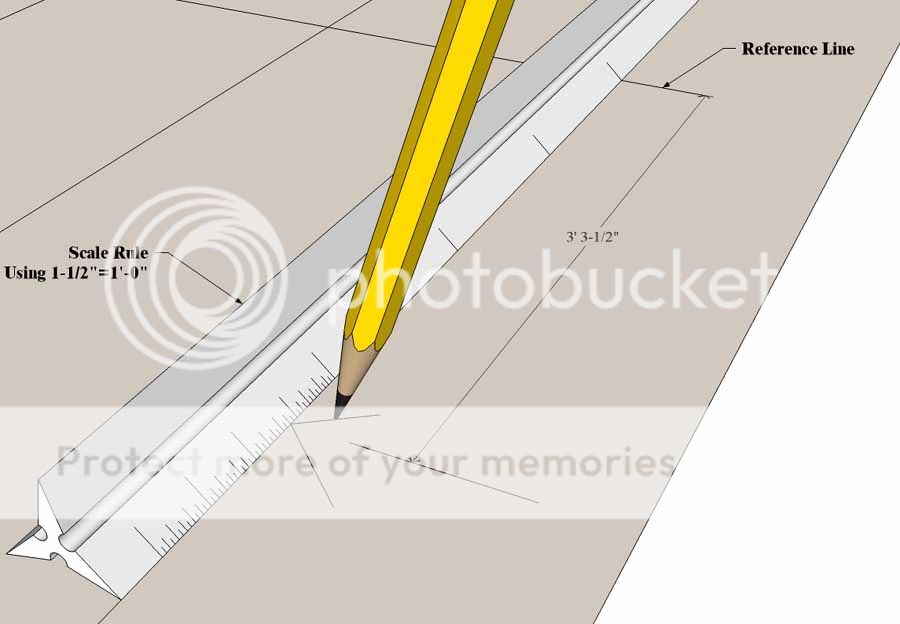 Just above is an image of a scale ruler being shown marking an offset. The scale shown is 1&1/2"= 1'-0" and the scale portion of the ruler is shown to the left where the pencil mark is being made at 3-1/2" of the foot. The three full divisions to the right show that the total being marked is 3' 3-1/2". What I'd like to call to your attention is the size of a pencil line in width at this scale.
In this scale ruler on plans task the drafter is 'putting down' a measurement.
This second sketch shows the scale ruler being used for a different task; in this image the rule is being used to 'take off' the measurement and the scale is different that the previous image.
The pencil lines or plans lines are the same width; but the scales are different so the rule's markings are either closer together or farther apart.
What is the measurement taken off shown in the second image? How does the pencil width effect the ability of the drafter/builder to 'take off' accurate measurements due to the effect of wide lines and small scale? What if the pencil line were even wider than one shown?
how much error are we talking about? Well look at the second image (close above) and estimate what fraction of a FOOT could be error! It would be easy to find an inch or more of error in normal plans and there are some drawings where this could be more than an inch- several inches.
I hope to have made the point that using scale plans there is a error potential when you're reading off the plans- even is the designer has given you a "table of offsets" which is merely the designer/drafter doing the exact process shown in the last image above; there is a potential for measuring error in the 'take off' procedure.
Now let's complicate things little bit to make the next step in this discussion clear as well. If plans papers are moist or too dried, paper will shrink and expand, if plans are 'blue lined' or copied then lines can "bloom" or become foggy and vague- wide lines are harder to 'take off' than sharp narrow crisp edged lines.
(Also) IF plans are reproduced in some types of printing, they can become pixelated or have different widths. Therefore... when a builder gets plans on paper, which are drawn to scale, there can be automatic and naturally occurring errors of some fractions of an inch: even in the best plans available.
This is one reason many plans services provide paper patterns, actual full size patterns to be placed on the work materials that don't require lofting, taking off or laying down- the 'real size' pattern is provided. Not a bad way to go, but not something that all plans packages off.
What happens when you read a plan's dimensions (take off) and then lay it out full sized? There are two steps of potential error- one in both operations- the take off dimension is not clear due to line width and scale; and the laying down dimension is subject to marking error.
Looking above in the first image, again, the most reliable method of marking an offset on a grid line is shown. The V tip is exactly at the point of the measurement. This is done by placing the pencil (or preferably scribe tip- on the measured location (tape,scale,story stick) and making a V using the tip only, and marking on the metal with the scribe.
I prefer a small black reference mark as contrast and background exactly like the struck lines in previous posts.
This sketch of a layout grid of station lines on paper shows a series of V's marked along the station lines from the left reference line (in this case it could be Plan View of a Keel -straight line in Plan).
This exercise was a conversion of scale- only. The original plans were in a very small scale, and therefore the pencil lines of the plan were almost 2" wide!!!! So the drawing here was part of the steps required to scale up to a larger scale drawing of 1-1/2" = 1'-0".
The chine (Plan View) was 'taken off' as a series of offset-distances-from-keel in Plan in one scale and then using the other side of the Scale Rule, they were 'laid down' to the reading as close as possible to that reading- which we've reviewed may not have been all that accurate?
For the sake of this image; the left most straight line is a reference line like a Plan View Keel. The next line rightward in the pic (top of image) is like a chine in Plan View aft on most planing hulls and is a reference line to the curve being formed. The next right line could be the keel in Profile View, and the farthest right may be some reference to the curves that will be drawn in Profile.. this is not a plans explanation- the illustration was part of previous discussion online.
What will have to be done with these V marked offsets? The process is the same for most curves we'll discuss- the batten had to be passed through the points to draw a fair curve. This is just a reminder of that process while on the drawing table.
The sketch above shows a fair curve drawn through the points, first taken off a scale drawing, then put down, laid down, lofted to the offset grid stations of the larger scale plans. This same process is done and called
lofting
if the eventual scale is 1"=1" or 'real dimensions'.
I hope that you can see the curve shows there were errors in the measuring and marking process? The V's are not all at the exact intersection of the Station Grid lines. What had happened by using the batten? THE ERRORS HAVE BEEN DETECTED AND CORRECTED!!! That is a very big deal, very important and critical point of using aluminum battens for drawing tools in the full size work.
Starting to the lower left the first V is the bow end of the change scale curve and we'll hold the batten to that point- so it's OK. But the next Station Grid V is 'short' - that is the mark is inside the location the batten shows as 'fair'. The next grid point is off too. That third Station Grid mark is 'wide' or 'outside' the curve's fair line. Moving back along the new curve, toward the top of the sketch of the new curve, there are lots of various errors of various differing amounts.
The concept used was to anchor to the reference line aft.
Next use the bow point as 'good' and then best fit- make the batten lay fair as close as possible to the majority of the tips of each V at the Station Grid intersection. The builder's/drafter's/designer's eye is the control of the batten's fair line. But remember- the batten is selected so it can't kink like a chain could. The batten as tool will bend to a fair curve, but the curve has to be controlled by the eye of the builder.
What are the implications?
Anyone
can take standard paper drawings and loft/rescale those plans and correct
normally occurring errors
in measurement and layout- resulting in clean, fair, full sized boat lines; (that when) accurately cut, fit and assembled as boat parts- will build a fair hull if they take time to apply aluminum extrusions as drafting battens to fair their curves.
That may not seem significant if you're not involved in trying to find out how to handle long curves in metal; but it will be if you decide to buy a plans package and do all the traditional (per computer) stages of work with your own hands.
Now, what do NC cut packages do? First computers have many different 'line fairing' routines- second lines have no 'thickness' or 'width' in a computer- so the measuring errors are gone! Second when the NC table is given commands to cut- the cuts are usually so close to exact we can't hardly measure the 'errors'- not so with us humans.
Therefore all this type of consideration of concept and practice of working metal is not of concern to those who chose to afford the Plans with Cut Files packages. This work we're discussing in detail is done for you- and the associated costs are relative to having a skilled tradesman do these steps for you, by hand.
Let's take some real world curved boat parts as examples next?
Cheers,
Kevin Morin
Kenai, AK