I am sure most of you know that white vinegar is great for cleaning epoxy from tools and brushes BUT recently I read about another use - rust removal. Many of you might know about this but for me it was news so I will pass it on to my fellow clueless builders.
Can't remember where I read it but it said soaking metal items in vinegar overnight would remove rust.
I decided to give it a try with several hand tools that were attacked by fumes form Muriatic Acid (another one of those learning experiences). I placed a couple of adjustable wrenched that had fairly heavy surface rust in a plastic container of white vinegar. The next day I removed them and I must say at first I was unimpressed. Just looking at them it appeared the rust was unaffected. So I started to use a paper towel to clean off the dripping vinegar and to my surprise the rust wiped right off!
I had good success cleaning several other tools and it wasn't until I was almost done I thought to take a "before and after" photo and post it. I had these old pliers and they had only light surface rust but still if you look close at the photos I think you get the idea. Again, this may be old news to many but it was a useful new trick for me.
BEFORE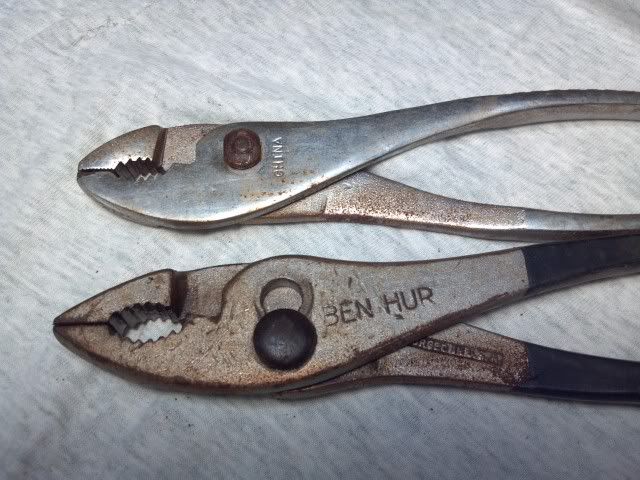 AFTER