Quote:
However, following waves blasting up through the motor well are a major concern. These can occur at any time while driving in rough weather.
You will find that the transom angle gives you a lot of reserve bouyancy for rough water, which in turn gives these style boats a different reaction. These transom angles stems from the early days of dories, surf dories to be exact for the fishing industry. The power ones are nothing more than wider rowing versions. So the issue of water in the well or over the transom as with many small runabout type boats is less of an issue to really none with the experienced helmsman. I have a 12 footer that I have on occasions fished the inlets and run across corresponding tide and wind conditions without a single issue. I have even loaded the boat with additional passenger lowering the rails to the water and still felt safe.
This boat is a regular hull offshore to over 40 miles with no cap at the transom and has been a favorite style for decades. But the design originated from commercial fishing hulls in all types of weather.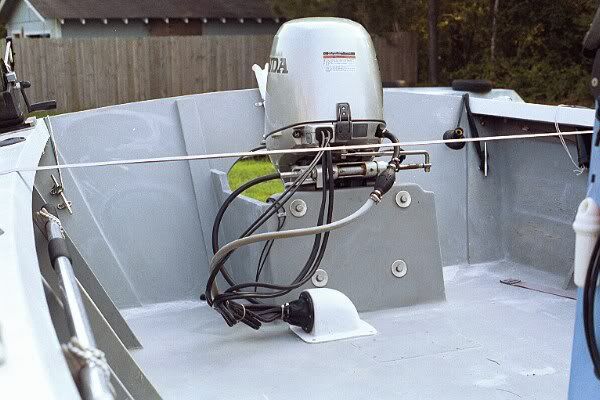 Check out another build thats taking place called the Bartender, which has a well inside the boat and used in the pacific northwest too. So moving the well back and cutting the transom cutout more is really not as big of an issue as long as you do not change the transom angle. You can also add back some splash guards too along the well sides as yet another deflector.
This is another add on for the well area which works well too for the absolute purist.