I was looking thru the WEBLETTER section, when I came across Jack Rouse's beautiful build of a Glen-L Gentry. In WEBLETTERS 56 and 70, he has these pic's of some air sanders in use.
(Click on pic's to enlarge)
The Straight Line
The Long Board
The Action (AND, The GREAT CHAIR!
)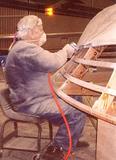 The Orpital
The Orpital and Staight Line
The Cell Phone (considerd an air tool, right?) Must be talking to Barry
And Least us not Forget, The Chair and that Beer!!!
The End
(Go to WEBLETTERS 56 and 70 to see Jack's whole build, worth a look for sure.)