Posted by Justin Schooneman on Nov 21st 2011
Welcome to my blog,
It's a little piece of the web where I'll be documenting the build progress of a Ken Hankinson designed Barrelback-19, built using the cold-molded plywood method. Apparently it will possibly be the first Hankinson Barrelback-19 built in Australia. Now the pressure is on .................
To quote from the Glen-L site where the plans where purchased, "Nothing causes aficionados of classic mahogany runabouts to salivate more than the sight of the famous barrel-stern examples built by Chris Craft long ago. For those unfamiliar with the type, the stern is a semi-circular or elliptical like half a barrel, with a lovely seamless blending of the tumble-home topsides into the deck, side to side."
Over the last three months I've been ordering study plans, blueprints, books and fasteners from Glen-L, and whilst I've been documenting the process, this is the first opportunity I've had to get a "blog" underway.
Over the next three entries I'll be bringing the project up to date with the current progress, but for now, an answer to the question I'm being asked the most............. why are you doing this?
The answer is simple............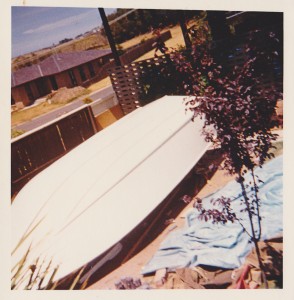 This is the only image I have of a Hartley cruiser my father built when I was a young lad. I'm lucky enough to have my Dad helping me with the build, for what should be an awesome Father-Son experience. I've also been fortunate enough to have been given several tools that my Dad had used to build this boat, which will in turn be used to build this Barrelback-19.
Until next entry...............
Timeline Update:
September 2011
Just to fill everyone in what's been going on leading up to this point, let me break down the last couple of months, starting with September........
Decision made on design, which will be a Ken Hankinson Barrelback-19.
Plans to be purchased from Glen-L Designs, USA.
Garage space available for project measures 21'x8'.
Study plans and 'Boatbuilders Notebook' ordered from Glen-l.
Started bookmarking and viewing other Glen-L builds of the Barrelback.
October 2011
Full sized plans ordered from Glen-L this month, as well as another recommended book, 'Boat building with Plywood'.
Commenced tracing profiles from plans to a roll of greaseproof paper, converting outlines to full frame members for decks, hull and sides.
November 2011
Joined the Glen-L family via their forum.
Completed all frame and transom patterns.
Purchased two hand planes on eBay - #4 & #5, in used, as found condition.
Decicision made on some materials to be used :
FRAMES: Hoop pine. PLYWOOD PLANKING: Okoume
Collected some important tools today (15/11/11) – those that my father used to build his first plywood boat – Gunyah. Items included a hand plane, spoke shave, clamps, rasps etc. On the hunt for images of Dad's original boat and launching day that are supposed to exist.