Posted by Anthony Reame on May 25th 2012
I have now dry fitted the plywood and was pleased with the results. Taking my time fairing paid off as everything went together pretty well. The only trouble I had was making the bend around the transom. I really had to shove it into place to make it bend around the curve of the transom. I went to the Glen-L Boatbuilder Forum and through past posts found that working your way toward the bend with slow progression is a good way to do it. I gave it a shot and it seemed to work pretty well. I did have to do a little bit more fairing on the transom curve. Next I plan on screwing everything into place and fiberglassing the butt-joints where the plywood meets. Here's a pic of the plywood clamped with no screws.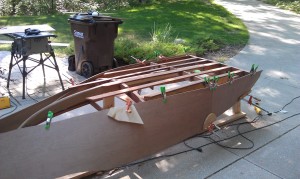 See more photos in my
gallery
.