Posted by Gayle Brantuk on Sep 21st 2012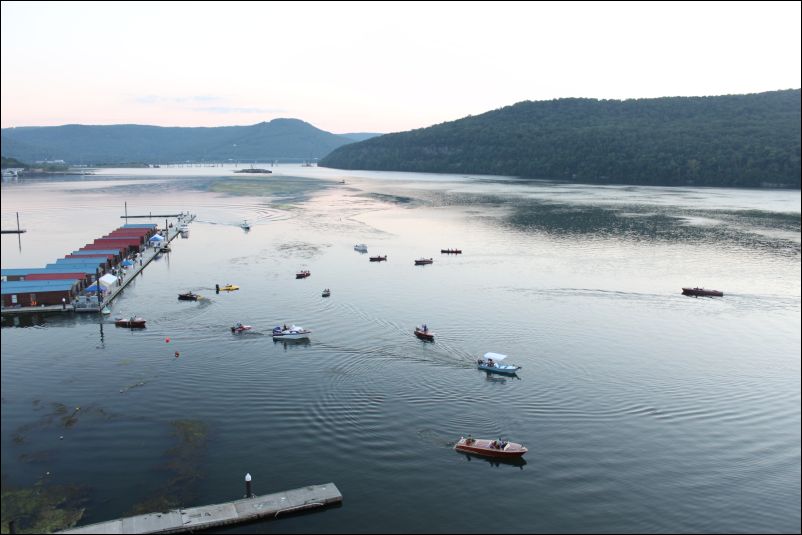 Aerial view of boats--getting them together is like herding cats :)
I know it's a hokey title, but what can I say? Once again, the Gathering of Boatbuilders was a wonderful and exciting time!
September 7-9 about 100 boat builders, hope-to-soon-be-boatbuilders, thinking-about-building-a-boat people and curious-onlooker-folk came to enjoy some beautiful boats and great conversation. We had about 24 boats that were hand built with love by those who brought them.
This year, John and I invited our son John II and his wife Kim, to join us. It was great to have them there and get to share with them this event that we go on and on about every year.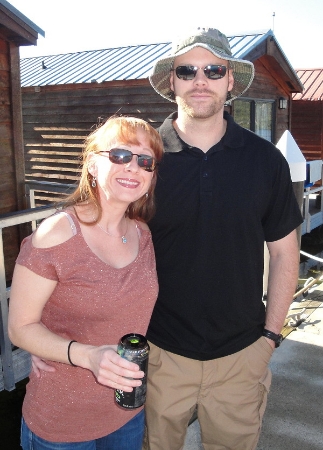 John II and Kim
As an aside, John II, is a recently retired Captain in the US Air Force. He sustained a head injury a couple of years ago and has not been able to fly as he was trained for and loved so much. He gets severe headaches frequently and his life as been totally changed from what he had planned. But, as he likes to say, "it's all good". He and Kim are moving back to California soon and will live very close to us, so we're very excited about that.
Okay, back to G6. Another special guest was a real-life war hero, Casey who only about 2 weeks prior had been shot down over Afghanistan and had to have both knees replaced. Talk about a brave woman! She hobbled around on crutches even getting in and out of boats. Very amazing!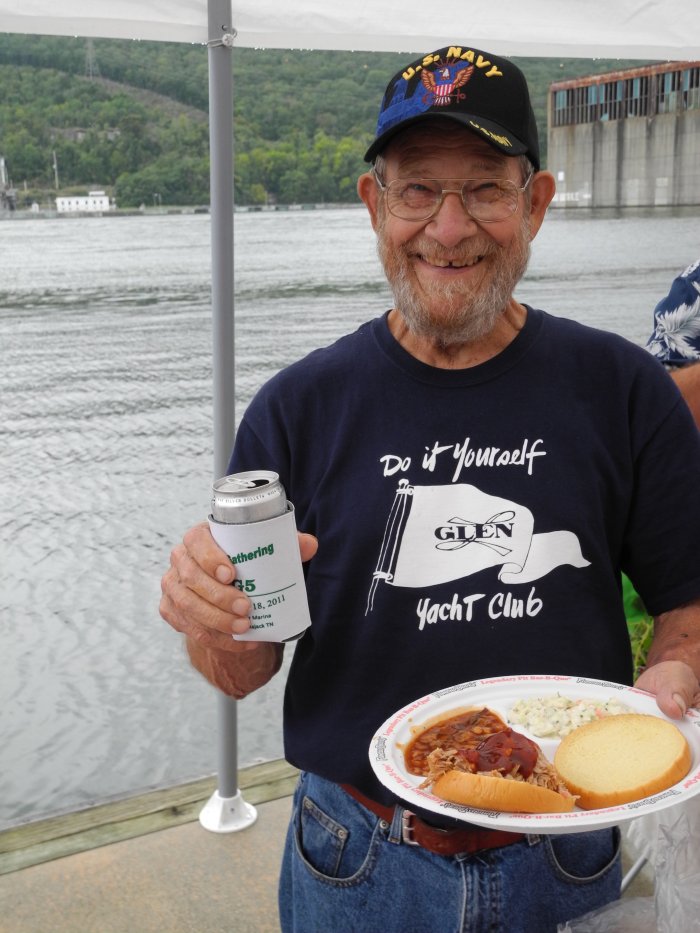 Jimmy70 - One happy man!
Then there was Jimmy70, as he's known on the Forum, who took a couple of days off of dialysis just to be at the Gathering. At our first Gathering in 2007, Jimmy got the "Timex Award"--takes a lickin' and keeps on tickin'! That's sure the truth!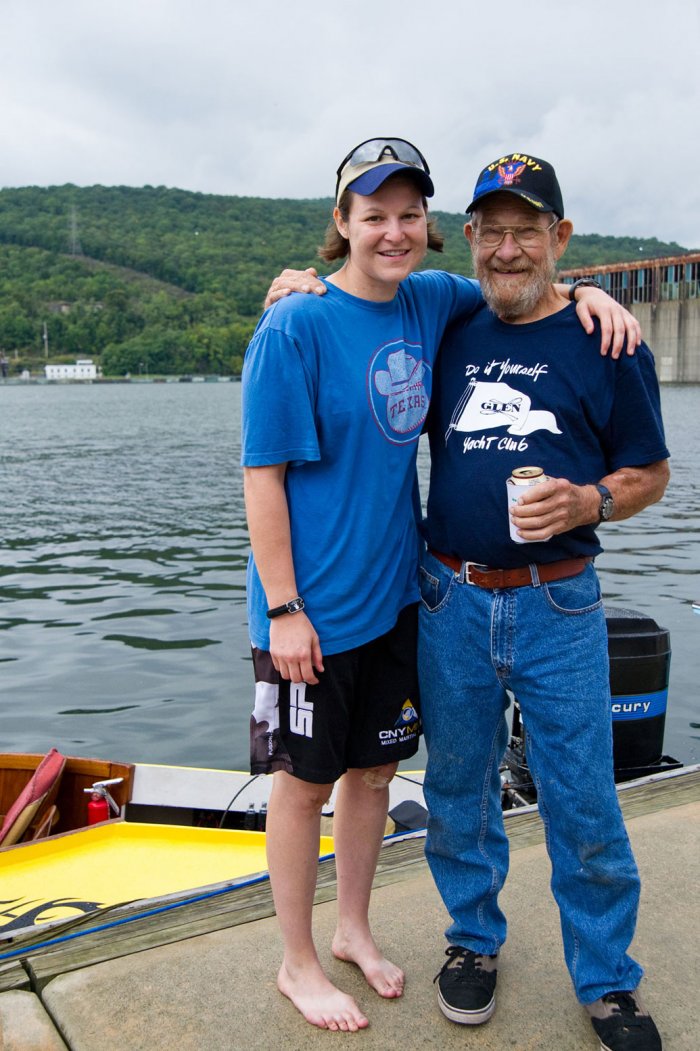 Casey our war hero and Jimmy70 our Navy Vet--they are both my heroes!
Kind of makes you feel a little lame for the excuses we all make, doesn't it? There are those like Casey & Jimmy & John II who don't let life's challenges keep them down.
Casey came with John Amundsen who launched his Monte Carlo, not quite completed but absolutely beautiful already! Then, there was Neel Thompson with his Gentry also not done, but a stunning example of fine craftsmanship. Both of these boats were firsts to the Gatherings.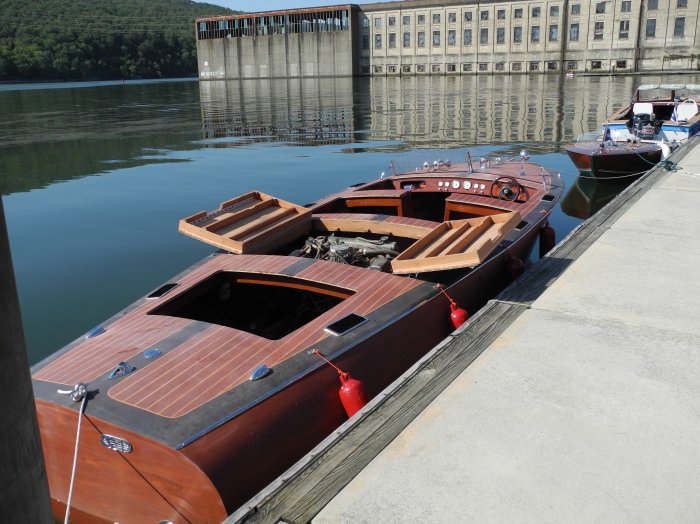 John Amundsen's Monte Carlo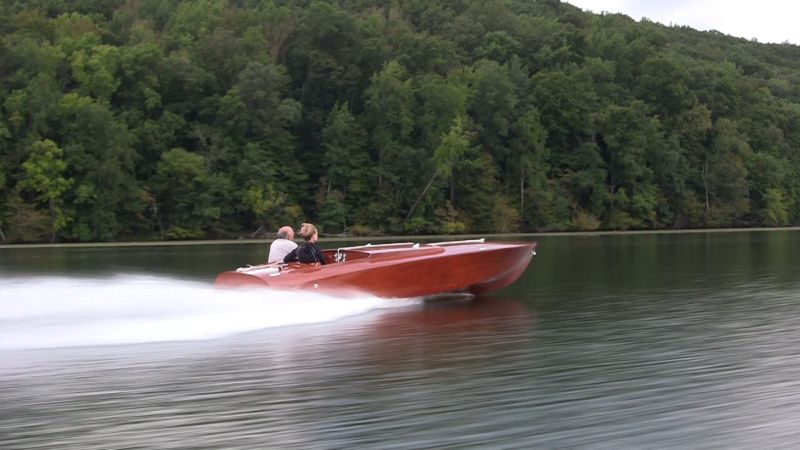 Neel Thompson's Gentry - a true Gentleman's Runabout
Another cool boat was the Double Eagle built by Burrell Thorne. His boat is based on our Double Eagle design, but he made a lot of changes. He raised the cockpit roof as he's well over six feet tall. He also stretched it to 30 feet which is way more than the 10% we recommend for this 23 foot design. But you know what, it looks great, performs beautifully and Burrell loves it!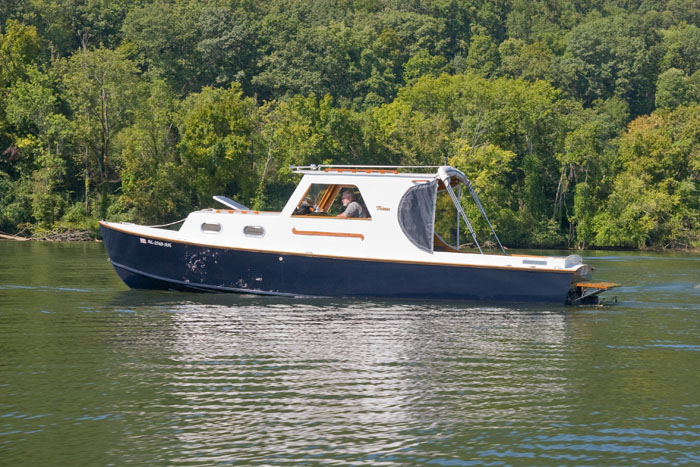 Modified Double Eagle built by Burrell Thorne
We also had another great addition to our group-- Zip builder Ted Gauthier. It turns out that Ted is great with a video camera. He made some wonderful videos of G6 and also was the interviewer on some of the videos that the Glen-L videographer shot. I'll share those with you when we have them. Following is an interview Ted did about Burrell's boat and I hope to post some more of Ted's videos in the upcoming weeks...
There's so much more to say, but I don't want to make this article too long. If you haven't seen the photos, we have a Gallery here. There are several other videos on the Glen-L You Tube Channel too.
The date for next year's Gathering is already set for September 20-22, 2013. Make your plans now!