Posted by Gayle Brantuk on Dec 16th 2011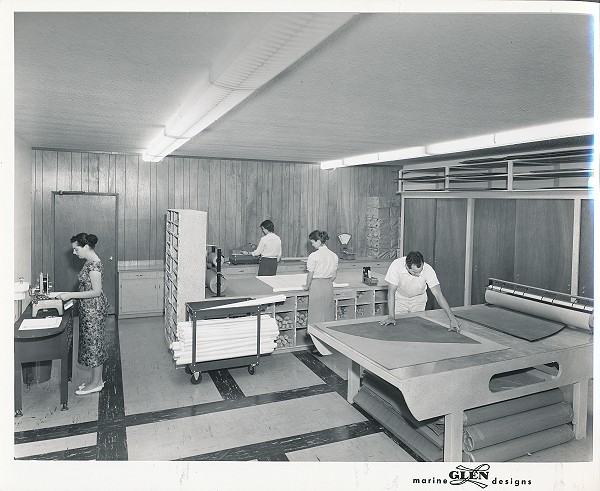 This is what the mailroom looked like in the very beginning. It's undergone various changes throughout the years as you can imagine.
I don't know everyone's name in this photo, except the man is Darrell Kasenburg and the lady in the far background was his wife at the time, Phyllis, who was also in our last photo.
You'll notice that Darrell is drawing out the patterns. The full size patterns were not blueprinted at that time as they are now. Each pattern piece was made on melamine and then traced onto kraft paper. Of course, back then we only had a handful of designs and these days we have over 300!
The machine at the left that the young lady is using was an early copy machine. I can't remember what it was called and so far a Google search hasn't turned up this particular machine. I know there were mimeographs & ditto machines but I don't think this one is either of those. If anyone knows, let me know!
Below is a photo of our mailing room today: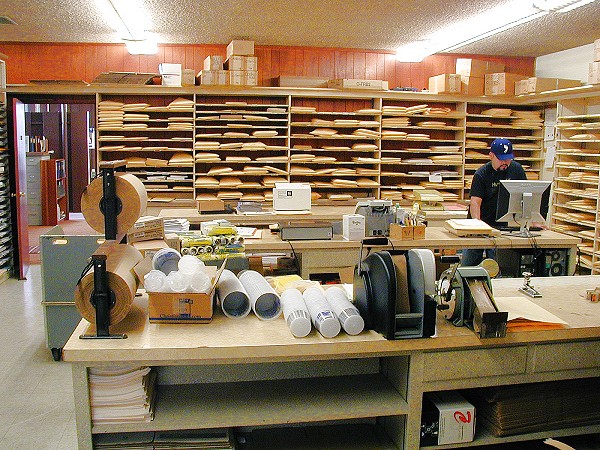 As you can see, our shelves are stacked with plans and patterns waiting to be shipped out when you order. The larger boxes on the top shelf above the plans are some of the sails for our designs. Our books and DVD's are below the counters for easy access. Our shipping is all computerized now which makes shipping a lot quicker.
Alfredo is getting some large orders ready to ship out in time for Christmas! He's our Shipping Supervisor, Blueprinter and Warehouse Manager. You can see through the door into our front office. The drafting room is through a door to the left of this photo.
More photos to follow!