Posted by Gayle Brantuk on Feb 23rd 2012
To read the previous posts in this series, click the links below: Part 1 Part 2 Part 3 Part 4 Part 5 Part 6
Thursday, January 5, 2012
Well!!! Christmas shopping, Christmas, New Years, and a bunch of other things slowed me down a bit, but I am making progress. The nontrip planks have been secured and the bottom runner planks are now on and waiting to set up for fairing and sanding. I like using 3/4" drywall screws to test fit the planks and then use the holes as pilot holes for the bronze screws. Because of the glues and screws I am using, I have spaced the screws out further than the nails would have been by about 2 to 3.
The nontrip plank has been set and faired where the runner plank will butt up to it. The plans show a lap joint at the back of the sponson, but because the two sponson planks come together like bottom and side planks at the stem on a regular boat, I prefered a butt joint at the point where the planks converge on the bow piece. I could have used a transition joint and lapped the rear portion but I thought the butt joint would be better looking. Here I am using a plane to shave the angle on the edge of the bottom plank to match the nontrip plank. Laying the plane on its side and running it along the nontrip plank while holding the bottom plank next to it forms the correct angle and as I move fore and aft, the plane changes along with the nontrip plank keeping the angle correct.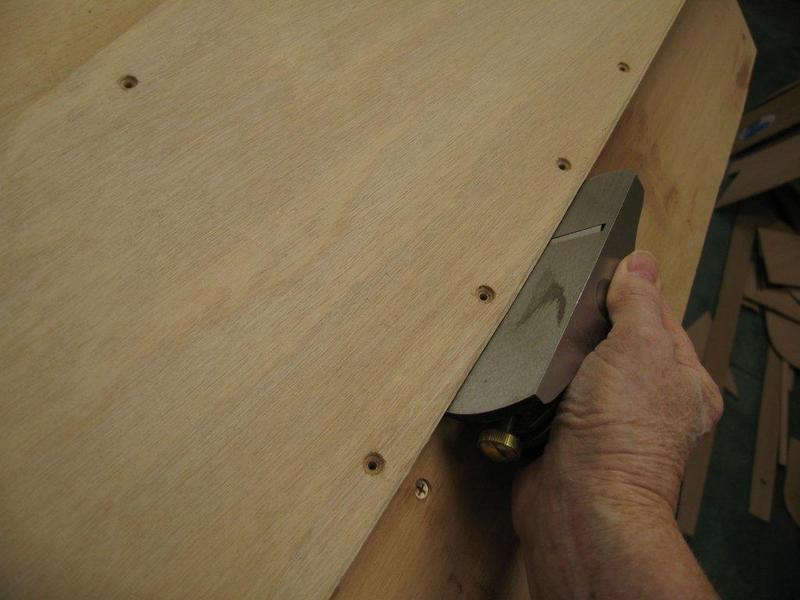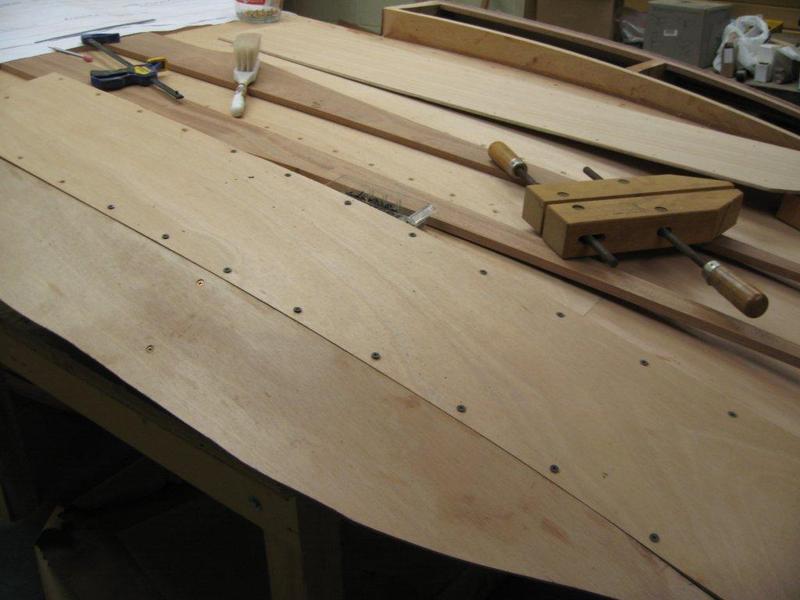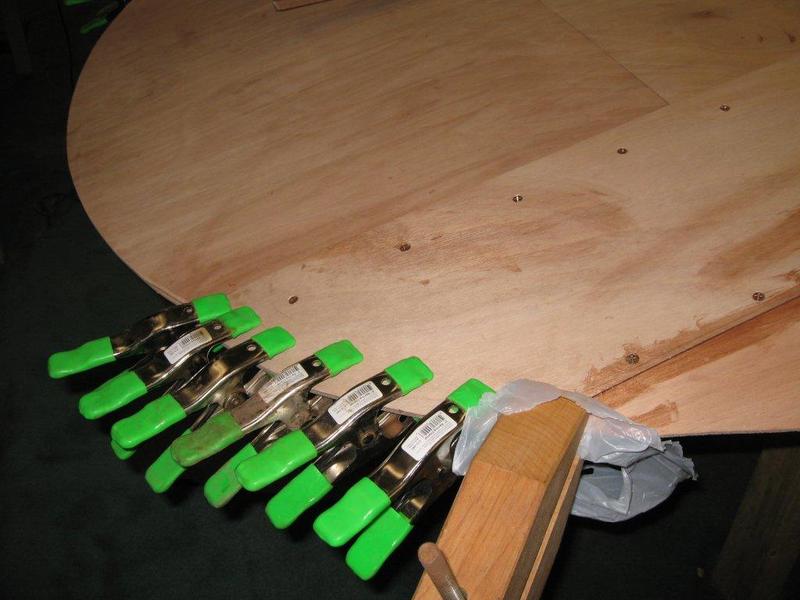 Wednesday, January 11, 2012
This week I sanded down the bottom and put on the first coat of resin. I will be laying on a few more coats and then it will sit and cure while Rich and I go golf.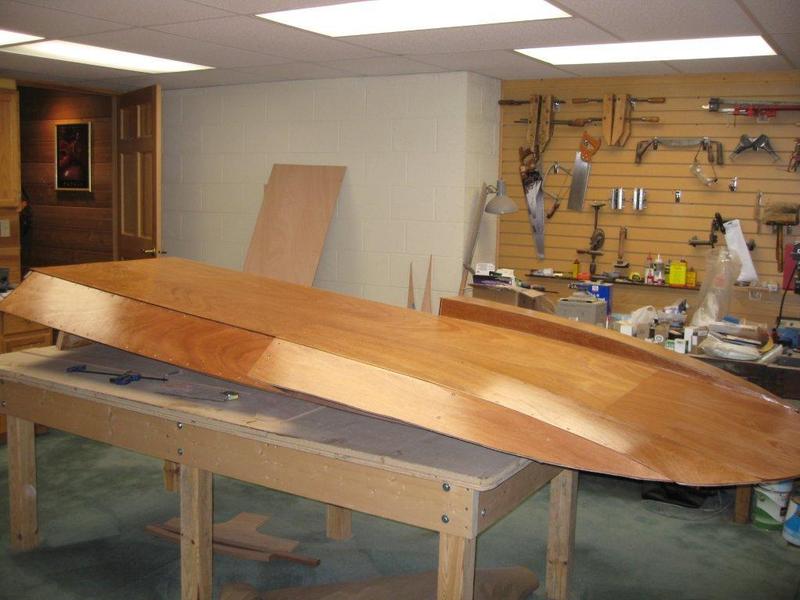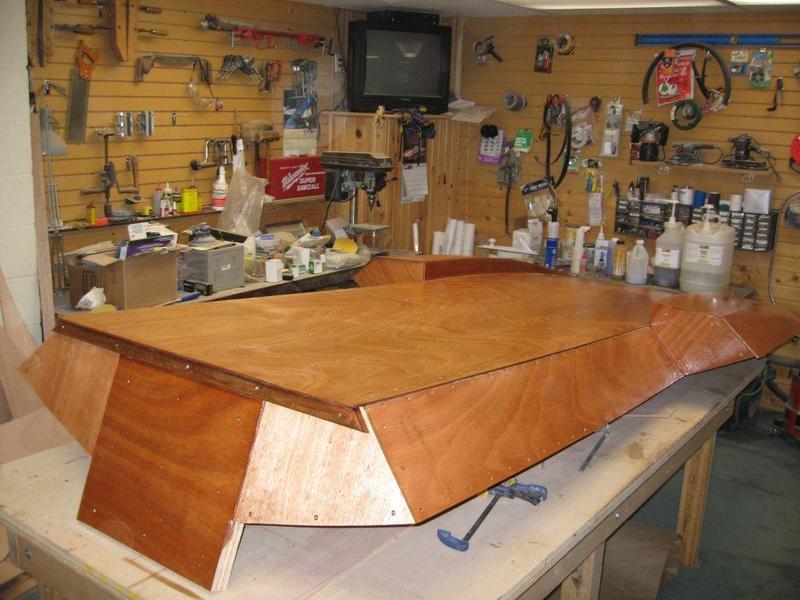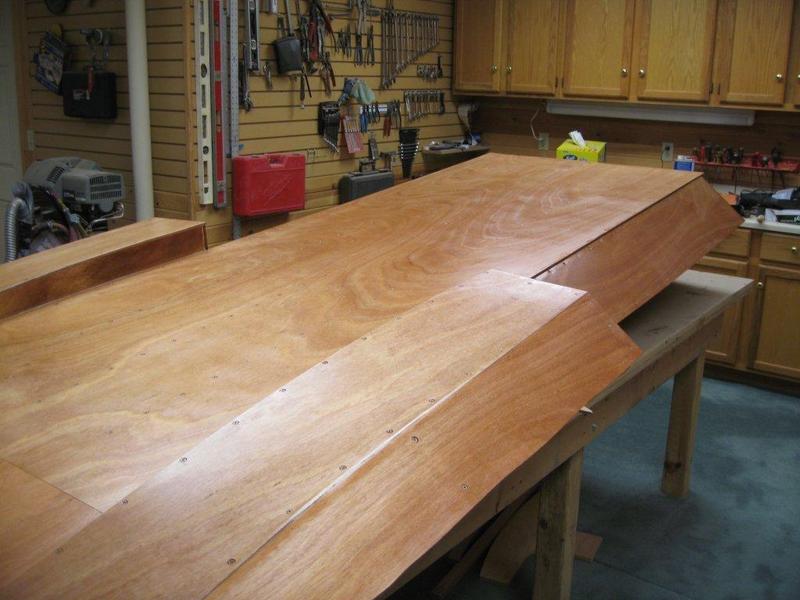 Thursday, February 9, 2012
Wow!!! More than three weeks since I last posted here!!! I have been busy on the boat and other things as well. I spent a week at the Milwaukee boat show as well as a week in Arizona golfing and site seeing.
I finished up the bottom as far as resin coating and we flipped the boat earlier this week. The coamings were fitted and the bow was faired where the bottom planking overhung the bow ring. Today I rough cut the decking and routered the fit along the carlings. Then I encapsulated the aft section of the boat. Tomorrow I will install the aft sections of the decking and install the coamings and the rest of the forward framing and strongback. The reason for installing the aft deck sections before the coamings is to prevent the coamings from springing the carlings out of their natural bend. The aft deck sections will provide the ridigity needed to keep everything in shape.
I went with maranti hydrotek for the deck. WHAT CRAP!!! See photo below.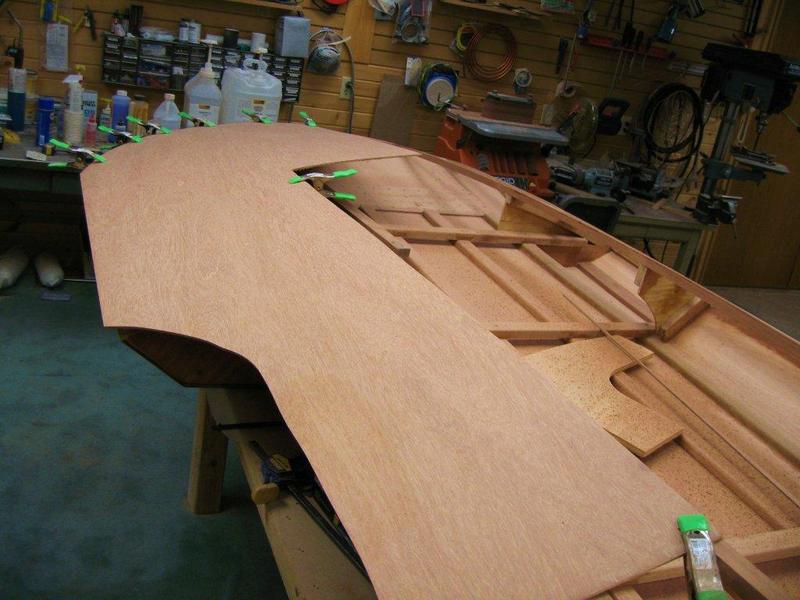 Stay tuned for Part 8...